~ "The only constant is change," Greek philosopher Heraclitus ~
While many people are ready to put 2020 in the rearview mirror, we'd like to push pause to look back at so many of the changes that have taken place across social media.
With the pandemic, protests during summer, and the presidential election, social media channels made numerous changes, some of them seemingly overnight at times.
Here's a look back at the highlights:
Facebook
As is often the case, this year was no exception to Facebook adjusting its look and feel. Early in the year, a slow roll out began to users with a change in the layout. This included more white space, changes in menu locations, and dark mode. The changes, which became permanent for all users in September, were met with some not-so-pleasant reactions.
Also in 2020, Facebook made several shifts to focus on "Information Centers." Whether it was the pandemic or elections, Facebook was often reminding its users that information was just one tap away.
The COVID-19 Information Center, for example, provides users with local stats, national headlines about the pandemic, and suggests health organizations to follow. In your menus and links on the sides of your home pages, you may also see things like the Climate Science Information Center.
Lastly, Facebook continued to focus on videos. Facebook reported earlier in the year that it has 1.25 BILLION monthly video viewers. You can't escape videos on Facebook, no matter where you are. One of the bigger changes this year with a focus on videos came with Facebook's Messenger and launch of Rooms. There, friends can watch videos together, including some live videos.
Instagram
This summer, in an obvious move to compete against TikTok, Instagram (owned by Facebook) launched Reels. The feature allows users to create short-form videos with music. Late this fall, Reels became a prominent feature in the app with a major change in how to post content to the app. That has certainly been met with mixed reactions.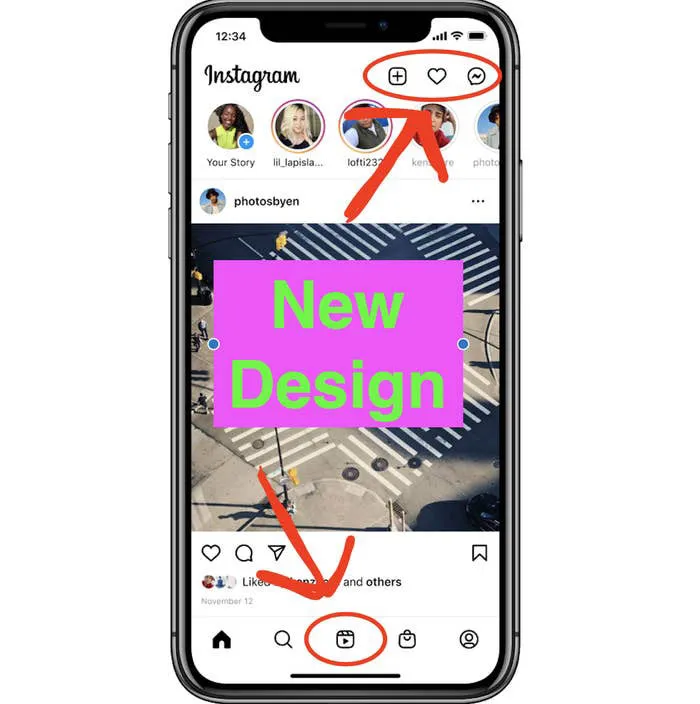 To close out 2020 with a bang, Instagram is rolling out its shopping feature around the world on Reels. Businesses can tag products while viewers can tap on tags to buy or save them.
The focus on shopping is one way Instagram has tried to help smaller businesses this year, with the feature now available in the Feed, Stories, IGTV and Live.
"With the right targeting, small businesses have an opportunity to get their products directly in front of audiences where they are, from discovery to checkout," Chris DeGraw writes on digitaltrends.com.
YouTube
It was actually a fairly quiet 2020 for YouTube – a "mostly unremarkable year" as one writer says.
The biggest changes to YouTube came way back in January when the platform officially made users declare whether or not their content is made for children. This change meant that targeted ads were restricted from running on kids' videos. A violation of the rules means users can face a fine from the Federal Trade Commission.
Dan Eardley, who reviews toys, told The Verge that the new guidelines are "frightening … It's hard to know if we're in violation or not."
In addition to this change, this year YouTube put an end to email notifications to new uploads and removed election-related videos with false information. Analysts
Twitter
The biggest change of the year for Twitter came in November with the full rollout of "Fleets," which are pretty much that platform's version of "Stories."
 
It's still early, but users haven't flocked to this new feature yet. Half of the users in a survey from YouGov show that people aren't interested in disappearing content on Twitter, while 35% say they already post stories to other apps. 
In addition to Fleets, Twitter added several features during 2020, including an option to limit who can reply to tweets and telling people why certain topics are trending.
LinkedIn
This year was already poised to be a big year for LinkedIn as its growth in recent years has remained steady.
With a rise in unemployment and people seeking out new opportunities – including learning more skills – LinkedIn was constantly pivoting in 2020. One change was an "Open to Work" feature to make it easier for recruiters to find you if you're looking for work.
The platform also released a COVID-19 Resources hub to assist users in a variety of ways.
LinkedIn also released "Stories" and revamped its layout without controversy. 
TikTok
Perhaps the biggest thing about TikTok this year is that as we close out 2020 it's still here. There was a call to ban the app citing national security, but a federal judge blocked that attempt in early December.
Instead of too many platform changes, TikTok is garnering headlines such as "How TikTok changed the world in 2020."
TikTok did recently reveal new Community Guidelines that focus on "well-being" features related to suicide and self-harm.
Pinterest Users, Stock Soars
In our Social Media in the News feature, we talked throughout the year about Pinterest's stock — it has increased more than 250% this year!
Users have increased this year – up to 442 million active users – as people look for do-it-yourself projects while stuck at home during the pandemic.
Pinterest's biggest change this year is actually happening now in December with new tools, personal notes, more search tools, and Pin favorites.
There's also a new toolbar for users to easily find more ideas, create to-do lists, and rearranging boards to their liking.
What's Ahead in 2021?
One thing we know for sure: Social media isn't going anywhere! Change will continue to happen across all platforms. If you're a business owner, check out five things you should do to close out 2020 and kick off January.
While we've been "physically distancing" from each other in 2020, social media has drawn us closer together through technology. For 2021, expect platforms to focus on your communities. Here's a look at three of our predictions:
Hyper-local features on Facebook will see a major expansion. A Nextdoor-type clone is already being tested.
Google My Business will become even more important as "near me" searches grow. (Related: Why Google My Business Should Be A Top Priority)
Shopping will get even easier on all platforms. It's already happening (as we mentioned above), but just as "Stories" has become expected everywhere, a "Shop" icon will be in prominent locations on all apps next year.
We hope that you have a happy, healthy and safe end to 2020 and beginning of 2021!
__________
If you're looking for help navigating social media in 2021, The Social Ginger can help! Contact us today to set up a free 20-minute discovery call today.